Skip to content. | Skip to navigation
How To Find the UniBwM ...
The Venue for the International Conference on Operations Research "MUNICH 2010" is the campus of the Universität der Bundeswehr München (UniBwM).
Here you will find the UniBwM on Google Maps.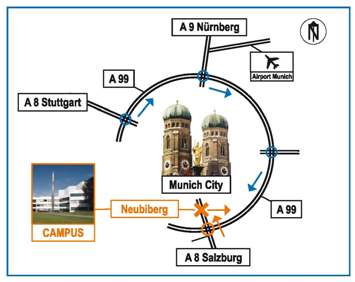 ... by public transportation
from the Munich Main Station:
U-Bahn (subway) U5 -> Station "Neuperlach Süd" (terminus)
S-Bahn (Suburban Railway) S7 -> Station "Neuperlach Süd"

from the Munich Airport:
S-Bahn S8 -> "Ostbahnhof", change to U5/S7 -> "Neuperlach Süd"

from "Neuperlach Süd" to the Campus (Main Entry):
Bus 217/218 -> "Lilienthalstraße" (2nd Station)
-> Map

Important Links:
Munich Urban Rail
Munich Airport

With your conference bag you will receive a 3-day-ticket valid for the entire Munich public transport network (Wednesday to Friday).
on the campus
The Campus Map: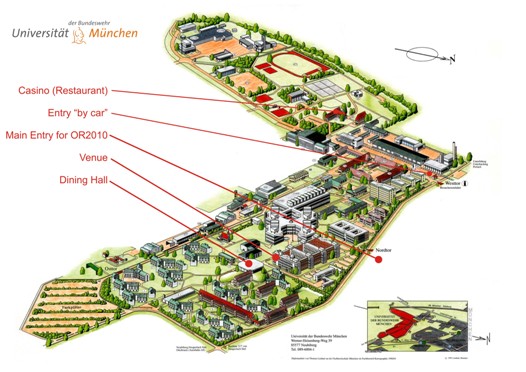 Document Actions